Illuminating Site: Birdsong Window Gardens

Saturday, May 4, 2019 8:00 - 9:30 PM at Birdsong

Admission - Members free, Non-members $5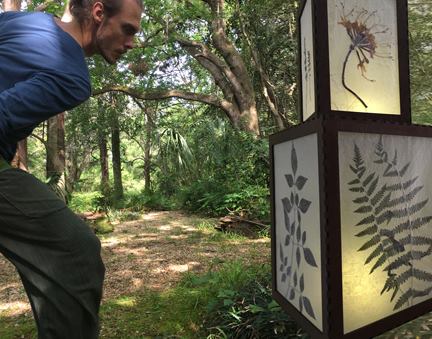 Join us Saturday, May 4 for Illuminating Site: Birdsong Window Gardens, a performance installation by Callous Physical Theatre.
The exhibit features 200 beautifully handcrafted lanterns, and choreography inspired by the plant and bird life of Birdsong Nature Center.
Joséphine A. Garibaldi and Paul Zmolek have gathered, pressed and dried local flora over the past year to create these unique artworks. Lanterns were created featuring images of feathers from birds that frequent Birdsong Nature Center.
Performances by Bridget Close, Aaron Ellis, Calypso Haddad and Aigars Larionovs will be featured throughout the exhibit. This evening of art and nature provides a rare opportunity to explore the gardens behind the Birdsong Bird Window that are usually reserved just for feeding avian visitors.
Illuminating Site: Birdsong Window Gardens exhibits one night only, Saturday May 4, 2019 from 8:00-9:30 PM. Performances are ongoing and you are welcome to explore the exhibit at your leisure.
Made possible in part by the generous support of Birdsong Nature Center and Florida State University's Facility for Arts Research, School of Dance, College of Fine Arts, and Council on Research and Creative Activity.
$5 non-members, free for members.
Please call or email Birdsong for more information: 229-377-4408, birdsong@birdsongnaturecenter.org.